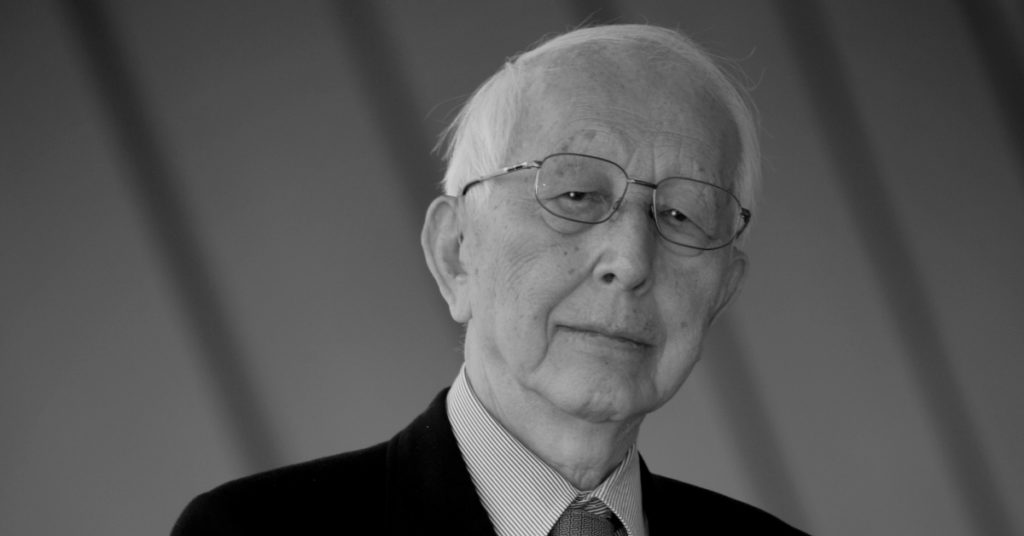 Fumihiko Maki, born on 6 September 1928 in Tokyo, Japan, is the 1993 winner of the UIA Gold Medal. He graduated in 1952 from the University of Tokyo and earned his Masters of Architecture degrees in the United States, at the Cranbrook Academy of Art in 1953 and Harvard Graduate School of Design in 1954. From 1956 to 1960, he was a professor at Washington University in St. Louis, where he was also commissioned to realise his first building, Steinberg Hall. Between 1962 to 1965, he taught at Harvard Graduate School of Design (GSD) before returning to Japan to found Maki and Associates in Tokyo in 1965. In Japan, he helped to lead the Metabolists, a group of young, avant garde Japanese architects who "'viewed the growth of buildings and cities as a fundamentally organic process, analogous to branches and leaves sprouting off a tree's central trunk."
Characterised by a merger of architectural modernism and Japanese traditional materials, methods and philosophy, his work is guided by a spiritual, psychological and spatially based theory of urbanism known as Oku (奥), unique to Japan and suggestive of "inwardness", and best exemplified by the Shimane Museum of Ancient Izumo, completed in 2006 and approached by a wall made of tatara steel, locally produced through a traditional method of smelting. HIs major buildings in Japan include the National Museum of Art in Kyoto, the Tokyo Metropolitan Gymnasium, the Tepia Science Pavilion in Tokyo, the Nippon Convention Center in Chiba, and the Keio University Shonan Fujisawa Campus. In 1993, he completed the Yerba Buena Center for the Arts in San Francisco, California followed by the Mildred Lane Kemper Art Museum, Annenberg Public Policy Center at the University of Pennsylvania in Philadelphia (2009), the Massachusetts Institute of Technology (MIT) the Media Lab Extension in Cambridge, Massachusetts (2009) and the apartment building, 51 Astor Place in New York CIty (2013). In 2014, he completed the Aga Khan Museum in Toronto Canada as well as the Aga Khan Center in London in 2018.
Awarded the Pritzker Prize in 1993, he also won Japan's 1999 Praemium Imperiale and the 2011 American Institute of Architects' Gold Medal.