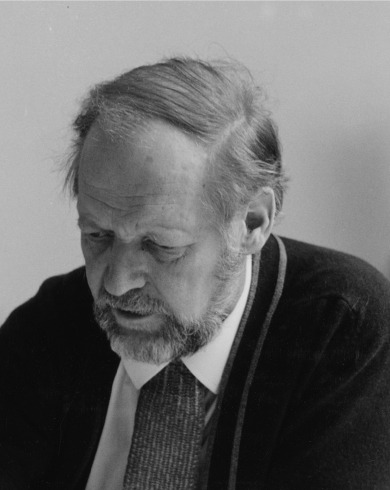 Reima Pietilä, born on 25 August 1923 in Turku, Finland, was awarded the UIA Gold Medal in 1987. An iconoclast associated with the Finnish Modernist movement, his work diverges from Finnish modernist economy and rationalism, and expresses Pietilä's interest in organic architecture centered in the Finnish national identity and the phenomenology of place. He emerged on the international scene after winning the architectural competitions for the Finnish Pavilion at the Brussels World Fair of 1958 for the Kaleva Church in Tampere in 1966 and for the Dipoli Student Union building at the campus of the Helsinki University of Technology in 1966.
Pietilä's modernism embraced phenomenology of place over rationalism and economy and was based in his study of philosophy and modern literature. The Student Union building Dipoli (1961-1966) on the Otaniemi campus of Helsinki University of Technology is one of his most notable buildings, exemplifying his interest in national identity and Finnishness, even exploring the Finnish language to express architectural form.
He went on to realise work abroad, notable in Delhi and in Kuwait, always using architecture to evoke the Finnish language, while publishing theoretical writings in Le Carré Bleu, a Helsinki-based journal jointly founded in 1958, together with fellow Finnish architects Aulis Blomstedt and Keijo Petäjä, Finnish architecture historian Kyösti Ålander, and French architect André Schimmerling. The group formed the CIAM Helsinki group, the Finnish wing of the French-founded Congrès Internationaux d'Architecture Moderne (CIAM). His wife, Raili Pietilä (15 August 1926 – 16 May 2021) was his official partner and the Museum of Finnish Architecture in Helsinki organised a major exhibition of their work, Raili and Reima Pietilä: Challenging Modern Architecture, in 2008.
The couple's last works, integrating sophisticated materials and details, included the Finnish Embassy in New Delhi (1985) and Mäntyniemi, the official residence of the President of Finland, the commission for which was achieved when Raili and Reima Pietilä won an architecture competition in 1984. Designed and built as a symbol for the presidential institution, the residence was completed in 1993 shortly after Raili Pietilä's death.
Raima Pietilä died on 26 August 1993.