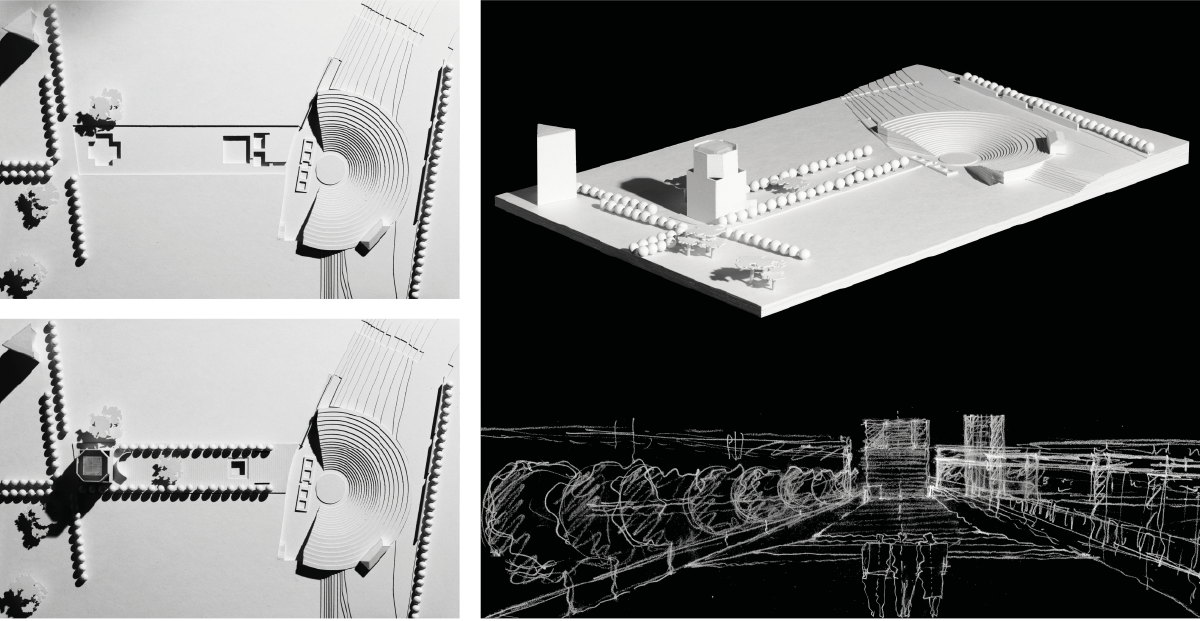 INTERNATIONAL IDEAS COMPETITION: THE DESIGN OF THE SURROUNDING AREA OF THE ANCIENT THEATRE A' IN LARISSA, GREECE (2021)
Procedure :
Category :
Professional
Region II - Central and Eastern Europe and the Middle East | Greece
The Municipality of Larissa in Greece organised an International Open Ideas Competition for the Design of the Surrounding Area of the Ancient Theatre A' of Larissa. Participation was open to architects, or multidisciplinary teams consisting of at least one architect.
View competition results press release
Keywords :
Culture, Heritage, Urban Landscape
Theme and objectives
Competitors were invited to submit proposals for the transformation of an inactive ancient open-air theatre dating from the 3rd century BC into a point of reference and identity for the modern city of Larissa, the fourth-most populous urban center in Greece. The Ancient Theatre A', the largest in Thessaly-Central Greece, is built on the slope of Larissa's Fortress hill, or "Frourio'', the fortified citadel of the ancient city, for an audience capacity of 10 000. Following an almost complete recent excavation, the theatre will soon be fully functional.
Connecting it to the contemporary city and its landmarks necessitated the redesigning of the surrounding area (approximately 42 hectares, or 420,000 m2). The renovation and redesign of the monument at the heart of Larissa, combined with the restoration of its functionality, will bring global recognition and visitors from around the world.
The competition was endorsed by the UIA and  conducted according to the UNESCO Regulations and the UIA best practice recommendations.
Eligibility
The Competition was open to architects from all countries entitled to practice in their country of residence.
Due to the complexity and size of the competition site, multidisciplinary teams, including specialists in landscape, urban design and planning, archaeology, history, sociology, led by (an) architect(s) were encouraged.
Jury Members
Renato Rizzi, Italy (Chair)
Aristidis Sapounakis, Greece
Deniz Incedayi, Turkey
Rainer Mahlamäki, Finland
Christian Sumi, Switzerland (UIA Representative)
Jacek Lenart, Poland (Alternate UIA Representative)
Results
1st prize: Armando dal Fabro (Italy) with architects Vincenzo d'Abramo, Claretta Mazzonetto, Mattia Cocozza, with architecture students Valeria Defilippis and Vittoria Pizzol.
2nd prize: Evangelos Pournaras (Greece), Amalia Vranaki (UK), Aikaterini Margariti (Switzerland), architects, and large-scale urban landscape sculptor Nella Golanda (Greece).
3rd prize: Team: FREA (Turkey) with architects Fatih Yavuz, Ömer Emre Savural, Bilal Ugur Liman, Güney Gürsu Tonkal, Muhammed Talha Yazici, Ceyda Tokcan, with architecture students Kaan Özdemir and Ebru Evin, and consultant architect/historian Pelin Yoncaci Arslan.
4th prize: Antonio Nitti and Vincenzo Bruni (Italy), architects, with architecture students Alessandro Benedetto, Martina Morelli, Sebastiano Narracci, Gian Luca Ranieri and Rossella Zeverino (Italy).
5th prize: Alexios Tzompanakis (Greece), Manuela Raitano, Alessandro Lanzetta, Anzela Fiorelli, Benedetta Tamburini, Laura Terrone, Beatrice Pia Pizzicaroli, Stefano Pannella (Italy), architects, with landscape architect Federico Di Cosmo (Italy), consultant archaeologist Efthymia Royka (Greece), and consultant sociologist Irene Tuzi (Germany).
Key dates
2021-09-20
Launch & registration opening
2022-11-19
Registration ends
2022-09-24
Questions Period
2021-09-30
Questions Period ends
2022-02-24
Submission Deadline
2022-03-22
Winners announced
Prizes
A total net amount of 63,000 euros will be divided as follows between the winners selected by the International Jury:
1st prize: EUR 30,000
2nd prize: EUR 15,000
3rd prize: EUR 10,000
4th prize: EUR 5 ,000
5th prize: EUR 3,000
Reference documents