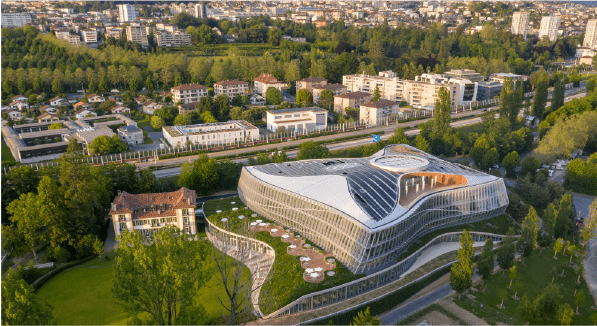 Olympic House
Procedure :
Restricted
| 
Category :
Professional
Region I - Western Europe | Switzerland
The International Union of Architects (UIA) and the International Olympic Committee (IOC) collaborated to launch a two-stage international architectural competition in 2013.
View the call for entries here
The selection documents were published on 28 March 2013. The 12 candidates chosen to take part in this project competition, by the jury in Lausanne on 17 June 2013, were the following architecture practices:
Jean Marc IBOS – Myrto Vitart (France)
XDGA – Xaveer De Geyter Architecten (Belgium)
Brasil Arquitetura Ltda. (Brazil)
Groupe 3 Architectes S.N.C. (Morocco)
AL_A – Amanda Levete Architects Ltd (United Kingdom)
Toyo Ito & Associates, Architects (Japan)
Office for Metropolitan Architecture (Netherlands)
Nieto Sobejano Arquitectos GmbH (Germany)
PIUARCH S.r.l. (Italy)
3XN (Denmark)
Diller Scofidio + Renfro (USA)
Farshid Moussavi Architecture (United Kingdom).
The second step of the procedure (architecture competition) was launched on 30 July 2013. The jury session took place in Lausanne on 7 and 8 December 2013.
Read more about the competition here
Read more about the project by 3XN
The International Olympic Committee (IOC) officially opened Olympic House – one of the most sustainable buildings in the world – on 23 June 2019. The inauguration was the highlight of the celebrations to mark the 125th anniversary of the IOC.
Developed by Danish architecture firm 3XN, Olympic House was designed around the five key elements of symbolism, integration, flexibility, collaboration and sustainability. The firm partnered with Swiss architects IttenBrechbühl to oversee the construction of the building. The result is a building that authentically reflects Olympism, the Olympic Movement and the role of the IOC as a catalyst for collaboration in an iconic form.
Keywords :
Institutional, Sustainability
Theme and objectives
The objective of the competition was to:
Create new headquarters for 600 staff members on one site.
Plan for the development of the "Olympic House" housing administrative buildings. The surface area of the plot available to the IOC is 24,000 m2.
Jury Members
Chairman
Thomas BACH, IOC President
Non-professional members
Jacques ROGGE, IOC Honorary President
Nawal EL MOUTAWAKEL, IOC Vice-President
Craig REEDIE, IOC Vice-President
John COATES, IOC Vice-President
Ching-Kuo WU, architect, IOC member
Lambis NIKOLAOU, civil engineer, IOC member
Substitutes
Ser Miang NG, IOC member
Christophe DE KEPPER, IOC Director General
Gilbert FELLI,Olympic Games Executive Director
Professional members
Alejandro ARAVENA, architect
Kengo KUMA, architect
Inès LAMUNIERE, architect
Dominique PERRAULT, architect
Brigitte SHIM, architect
Craig VERZONE, landscape architect
Olivier FRANÇAIS, civil engineer member of Lausanne City Council, member of the Swiss Parliament
Nicole CHRISTE, Lausanne City architect
Substitute
Mauro Eugenio GIULIANI, civil engineer
Expert advisers
Timo LUMM, IOC Television & Marketing Services Director
Jean Benoît GAUTHIER, IOC Technology and Information Director
Marie SALLOIS DEMBREVILLE, Head of IOC Corporate Development
Thierry TRIBOLET, Head of IOC Technical and Logistics Services
Nicolas ROGEMOND, IOC Project manager
Results
The following three winning projects were chosen:
"Unity House" by 3xN (Denmark)
"Olympic Forum" by Farshid Moussavi Architecture (England)
"One People Under One Roof" by Xaveer De Geyter Architecten (Belgium)
The three firms were then invited to further develop their concepts and in April 2014, the IOC Executive Board chose Danish firm 3xN as its preferred architectural partner.
Key dates
2013-03-28
Publication of the call for candidates
2013-05-15
Submission deadline
2013-06-17
Candidate selection decision
2013-11-01
Submission of projects (qualifying deadline)
Prizes
The contracting authority paid each selected candidate who submitted a project in conformity with the competition programme the sum of CHF 30,000, excluding VAT.
In addition, the jury had at its disposal an amount of CHF 100,000, excluding VAT, to pay for at least three prizes.