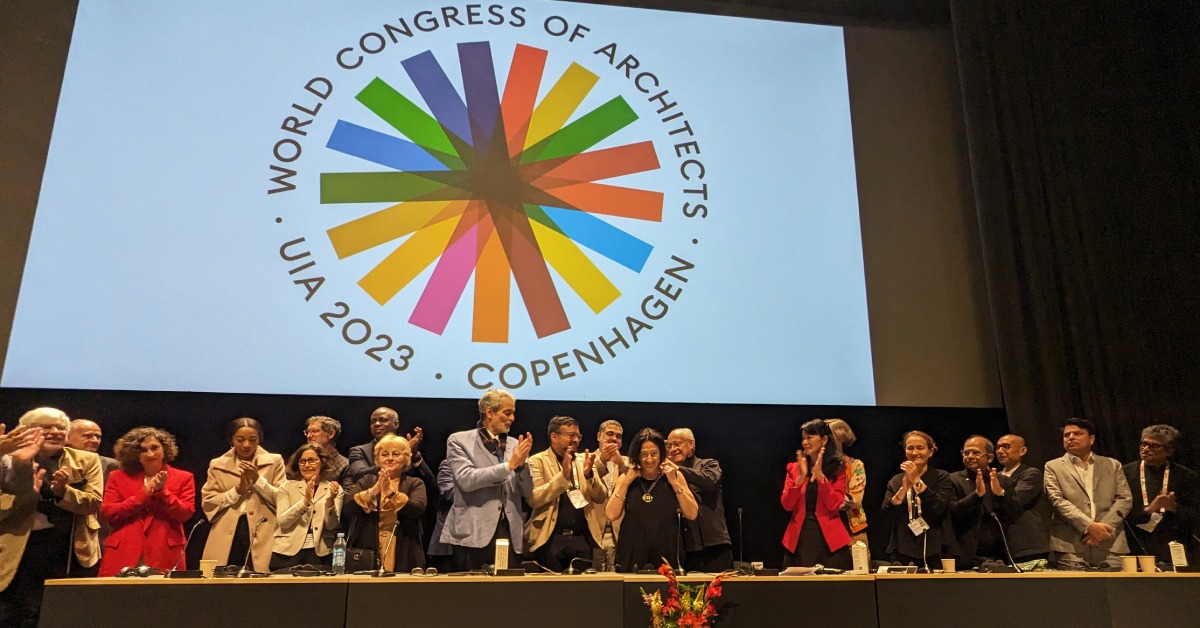 Regina Gonthier elected UIA President
Swiss architect Regina Gonthier was elected to head the Union for the 2023-2026 term. She succeeds José Luis Cortés, who will take the role of Immediate Past President and is the third woman to head the Union since its creation in 1948.
Regina Gonthier has extensive experience within the UIA having served as Council Member (1999, 2011, 2017, 2021) and Co-Director of the International Competitions Commission (ICC) from 2015-2023.
While addressing the General Assembly before her election, she noted that the UIA had achieved a lot in its 75 years history thanks to the engagement and work of its elected representatives and members of its Working Bodies. "The 75th anniversary of the Union is a decisive moment and an important turn," she declared. The UIA is challenged to question and position itself, redefine and concretise its global mission as well as clarify its role and the role of the architect. It is necessary to reach, interest and involve the younger generation of architects, collaborate with international and regional organisations on specific common topics and bring added value to UIA Member Sections.
A practising architect and co-owner of an architectural office in Bern, alongside her husband, Regina Gonthier has been visiting professor of architecture at ETH Zurich and expert critic in different schools of architecture. She served on expert councils for architecture and urban planning in several Swiss cities (Zurich, Biel, Bern) and presided the council of the Canton of Fribourg.
She has participated in numerous competitions as a competitor – winning many competitions – or jury member. As Vice-President of the Swiss Competition Commission, she was the Chair for the 2009 revision of the Swiss Competition Regulations (SIA 142) and the new Regulations for parallel studies (SIA 143). For many years, she was a member of the Architects Council of Europe (ACE) Work Group ADC+PP. She initiated the creation of the Swiss Conference of Architects (CSA) and served as President from 2008-2023 and ACE Swiss Delegate from 1993-2023.
While presiding over the UIA's first Council meeting of the 2023-2026 term, the President outlined her priorities for the Union and her objective to Cooperate for a unified, equitable, inclusive, sustainable, peaceful world, Unite architects on common professional goals and ethical values and Professionalise the Union in order to produce valuable professional outcomes and respond with architectural expertise in different domains. Priority will be given to the transposition of the Task Force Group's recommendations on UIA governance regarding the Union's articles and bylaws, the promotion of architectural expertise in sustainable development matters as well as the evolution of the profession and the question of how to interest and involve young architects in the UIA's actions.