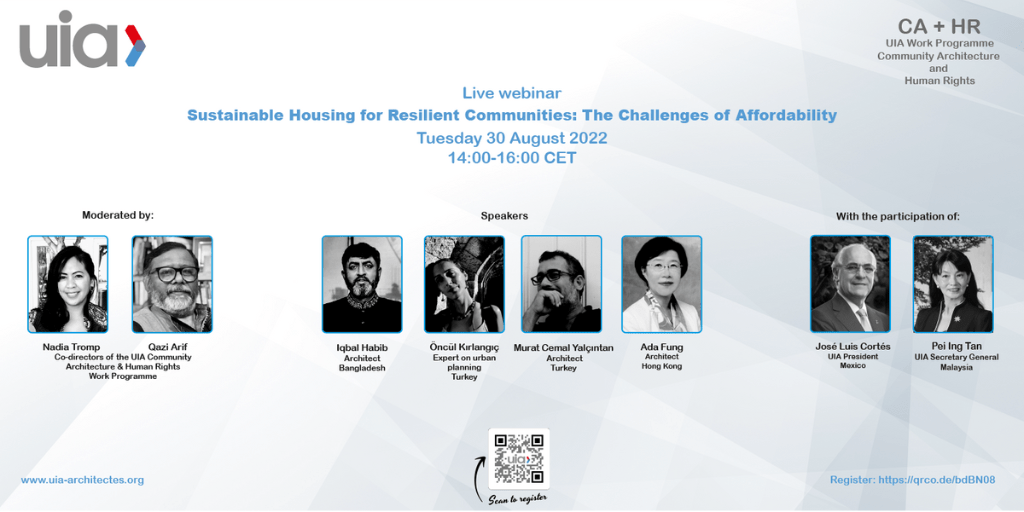 On 30 August 2022, UIA Work Programme Community Architecture & Human Rights (CA + HR) is hosted a webinar on Sustainable Housing for Resilient Communities: The Challenges of Affordability. Speakers shared experiences and innovative ideas and projects through the lens of UN SDG 11: "Sustainable Cities".
The UIA Work Programme on Community Architecture and Human Rights (CA + HR) focuses on UN SDG 11: "Sustainable Cities", the objectives for which include providing safe and affordable housing, fostering inclusive and sustainable urbanisation, protecting the world's cultural and natural heritage as well as ensuring access to safe, inclusive green and public spaces.
During the most recent period punctuated by continuous crises, from sanitary and environmental to fiscal, energetic and social, communities around the globe have been required to be resilient in order to meet daily needs. But it is important that long-term sustainability goals not be compromised by short-term urgency as our communities struggle for survival. Short term and long-term objectives will require new set of principles, methods and tools, which are complementary and not exclusive to one another.
Considering the above, CA + HR, focuses on the issue of affordable housing as a key to addressing this holistic agenda and invites a set of prominent speakers to share their regional and local experiences with confronting current challenges and sharing innovative out-of-the-box ideas and projects. Two webinars will host a lively and much needed dialogue, mapping the field and balancing the need for tactical immediate action with long-term strategic planning. Beyond presenting young architects and students of architecture with an array of successful case studies based on proven professional knowledge, the intention is to stimulate an inclusive and forward-thinking discussion on harmonising local action with global priorities and risks.
SYNOPSIS
Propaganda and Possibilities – Iqbal Habib, Bangladesh
Housing finance in Bangladesh is monopolised by people in high-income brackets where the mortgage lending system bypasses the needs of the urban poor and middle class. Both public and private sectors provide housing in the city, but the Government can meet only 7% of the total housing demand, whereas private and informal sectors supply the bulk of housing, 93% and 55% respectively. However, most private sector housing is unaffordable for the urban middle classes or for the poor, whose resilience provides the driving force for the country's economy.  The absence of comprehensive housing policies deprives middle and low economic classes of their basic right to safe and affordable housing. This presentation focuses on social housing in Dhaka City, providing glimpses of both innovative project design and strategic planning which responds to local challenges.
Düzce Hope Homes – Öncül Kırlangıç and Murat Cemal Yalçıntan
This presentation focuses on the Düzce Hope Homes project, which delivers 234 housing units and public spaces to low-income tenants who were 1999 earthquake-victims. After a legal struggle to access public land, Düzce Hope Homes project was developed through a community-driven process from design to construction initiated by Düzce Solidarity Housing Cooperative for Homeless and Tenant Earthquake Victims. Düzce Hope Studio volunteers undertook a participatory urban design and architectural process and following a cooperative effort, the Düzce Hope Homes are today almost completed.
The Hong Kong Housing Authority's Experience – Ada Y S Fung
To make cities safe, sustainable and resilient, citizens need to gain access to sustainable and affordable quality housing. With a population of around 7.5 million in Hong Kong Special Administrative Region (HKSAR), the Hong Kong Housing Authority (HKHA) as a public sector client / developer has been providing affordable public rental housing to around 30% of the population, and subsidised sale flats to around 16% of the population.  HKHA is committed to caring for people, caring for the environment and finding creative solutions to addressing the challenges of housing affordability. By striking a balance between social, environmental and economic aspects of sustainability, HKHA successfully creates resilient communities in a high rise, high density compact city in sub-tropical climate.