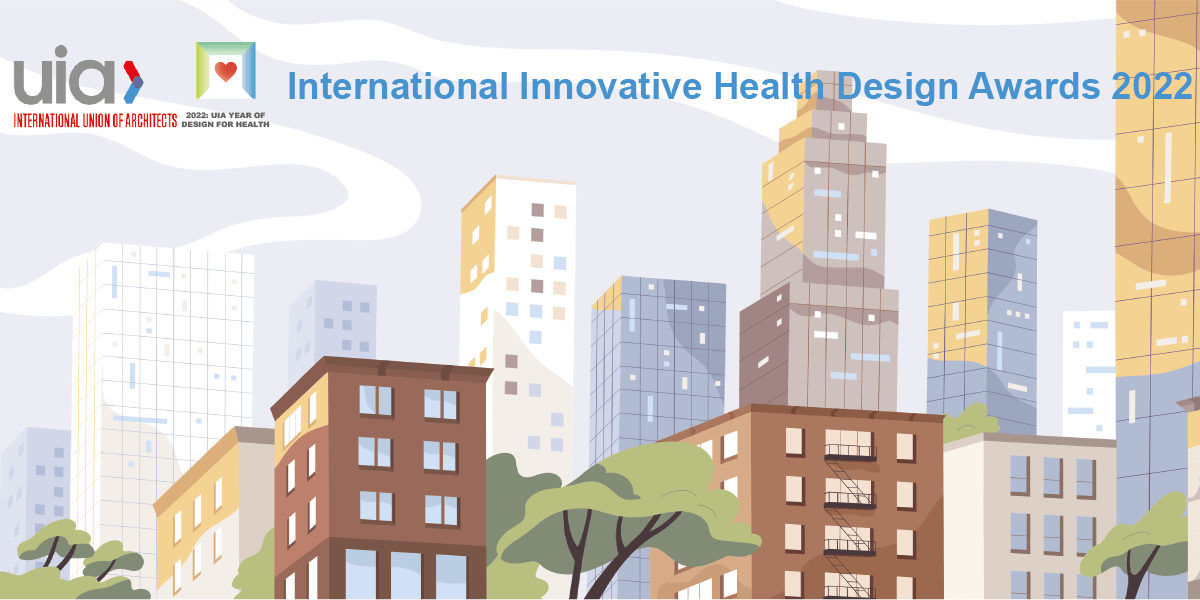 INTERNATIONAL INNOVATIVE HEALTH DESIGN AWARDS
Procedure :
Category :
Academic, Open, Professional
The International Union of Architects (UIA) has launched the first International Innovative Health Design Awards, organised by the UIA Public Health Group and open to all architects around the world.
Keywords :
Health, Sustainability
Theme and objectives
In keeping with its mission to mobilise architects to design for health in the wake of the COVID-­19 pandemic, the 2021 UIA General Assembly declared 2022  the UIA Year of Design for Health.
The International Innovative Health Design Awards aim to celebrate the essential role that architects play in social and environmental well-being and to address how architecture and architecture research focused on Design for Health, can help to mitigate the impact of future calamities. The Awards seek to recognise innovative architectural design solutions addressing issues brought to the fore by the COVID-­19 pandemic.  Architects are invited to submit entries in one of two categories: Built Work and Theoretical Work.
Key criteria
Evaluation criteria for the Built work category:
Creative and innovative approach in Health Design
Architectural quality of the design considering functional, environmental and sustainability aspects
Pertinence of the overall concept of the proposal
Evaluation criteria for Theoretical Work category:
Innovative approaches in Health Design
Clarity of research purpose, demonstrating critical analytical engagement
The research findings should be academically defensible
The quality of the submission's structure and referencing must be commendable
Eligibility
All practicing architects and architecture academics across the globe are eligible.
Jury Members
Built Work Category
Cindy Walters (UK), architect
Deniz İncedayi (Turkey), Chairperson & UIA Representative, architect
Tye Farrow (Canada), architect
Kerstin Thompson (Australia), architect
Luyanda Mpahlwa (South Africa), architect
heoretical Category
Ola Oduku (UK): Head, University of Liverpool
Fani Vavili (Greece), Chairperson, UIA PHG, Aristotle University of Thessaloniki, UIA Representative
Nivaldo Vieira de Andrade Junior (Brazil), Federal University of Bahia
Rosman Wai (Hong Kong), University of Hong Kong
Vity Claude Nsalambi (Angola), University Agostinho Neto
Key dates
2022-10-05
Deadline for Questions
2022-10-18
Deadline for Answers
2023-02-08
Deadline for Submission of Entries
2023-04-26
Announcement of winners
2023-07-01
Awards Presentation & Exhibition
Prizes
There will be one (1) award allocated per award category.  Awardees will be presented with certificates as well as free entrance to the UIA Congress and the award ceremony.