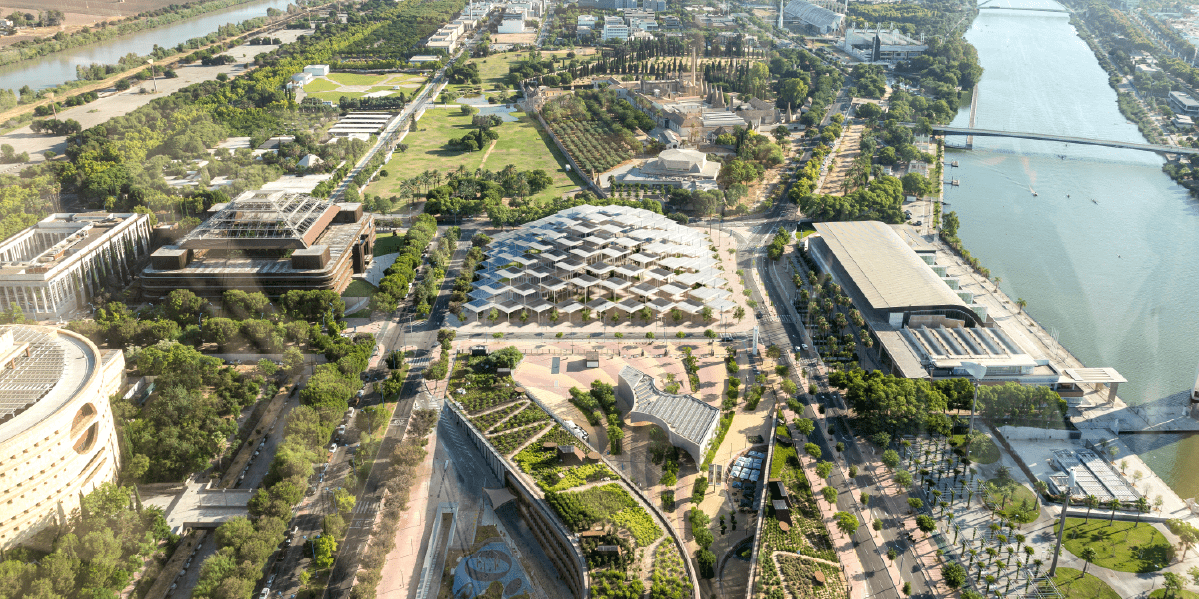 European Commission Joint Research Centre (JRC) (2021)
Procedure :
Restricted
| 
Category :
Professional
Region I - Western Europe | Spain
The European Commission Joint Research Centre (JRC) organized a restricted international multidisciplinary project competition for the design of the new JRC Site Headquarters in Seville, Spain.
15 applicants were selected to take part in the design competition and each received a payment of 10,000 Euros. The competition was endorsed by the International Union of Architects (UIA) as being in accordance with the UNESCO-UIA Regulations for International Competitions in Architecture and Town Planning.
TIMELINE
Launch: 18 May 2021
Deadline for application: 7 July 2021
Selection of participations and invitation to participate: Application deadline + 6 weeks
Deadline for Q&A: 1 month after invitation
Deadline for submission of design concepts: 3 months after invitation
Jury evaluation: 3 weeks after deadline for submission
Announcement of results: 1 week after evaluation
View the competition launch press release
View the competition results press release
Keywords :
Institutional, Sustainability
Theme and objectives
The competition sought a forward-looking, innovative and cost-efficient construction, aiming at integrating multiple disciplines to achieve the highest sustainability targets for a new construction project. Participants were also requested to integrate in their proposal a reflection on the future of office workspaces in the aftermath of the COVID-19 crisis.
Eligibility
This competition was open to all architects entitled to practice in their country of residence.
Jury Members
Bernard Magenhann, Deputy Director General of JRC, European Commission, Jury Chair, Belgium
Mikel Landabaso, JRC Seville site Director, European Commission, Spain
Lone Wiggers, Architect, Denmark
Silvia Benedito, UIA representative, Architect, Portugal
Patrick Bouchardon, Landscape Architect, France/Britain
Christiane Gerlach, Chief architect of European Commission, OIB (Brussels Infrastructure Office), Architect, German
Felipe Castro Bermúdez-Coronel, Architect, representing the Seville City Council, Architect Spain
Alternate jurors:
Asunción Fernández Carretero, Deputy Director of Directorate JRC.R, European Commission, Spain
Vincenzo Cardarelli, Adviser, Seville Site Development, Directorate JRC.B, European Commission, Italy
Anne Holtrop, Architect, Netherlands
Laurent Gravier, UIA representative, Architect, French
Results
The jury allocated the 3 following prizes:
1st Prize: Bjarke Ingels Group (BIG), with team members Argenia Ingeniería y Arquitectura (Spain), Buro Happold Limited (UK) and HCP Arquitectos y Urbanistas (Spain)
2nd Prize: Dorte Mandrup (Denmark), team leader, with Ines Ingenieros Consultores (Spain), Jansana, De la Villa, De Paauw, Arquitectes (Spain), Installacions Arquitectoniques (Spain) and Activitats Arquitectoniques (Spain)
3rd Prize: Cobe (Denmark) with Esteyco (Spain), FSL Ingeniería y Diseño Sostenible (Spain), Estudi Ramon Folch i Associats (Spain) and b720 Arquitectura (Spain)
Honourable Mentions:
ALA Architects Ltd (Finland), group leader, with Ove Arup & Partners (Ireland) and Mareld landskapsarkitekter (Sweden)
Mecanoo International (Netherlands), group leader, with Bakpak Architects (Spain), Eddea Arquitectura y Urbanismo (Spain), Arquitectura Agronomia  (Spain) and Valladares Ingeniería  (Spain)
Muoto Architectes (France) with Schnetzer Puskas International (Switzerland)
Key dates
2021-07-07
Deadline for application
Prizes
1st prize: EUR 30,000
2nd prize: EUR 25,000
3rd prize: EUR 15,000
The jury could also decide to allocate 2-3 honourable mentions to projects presenting a particular merit.