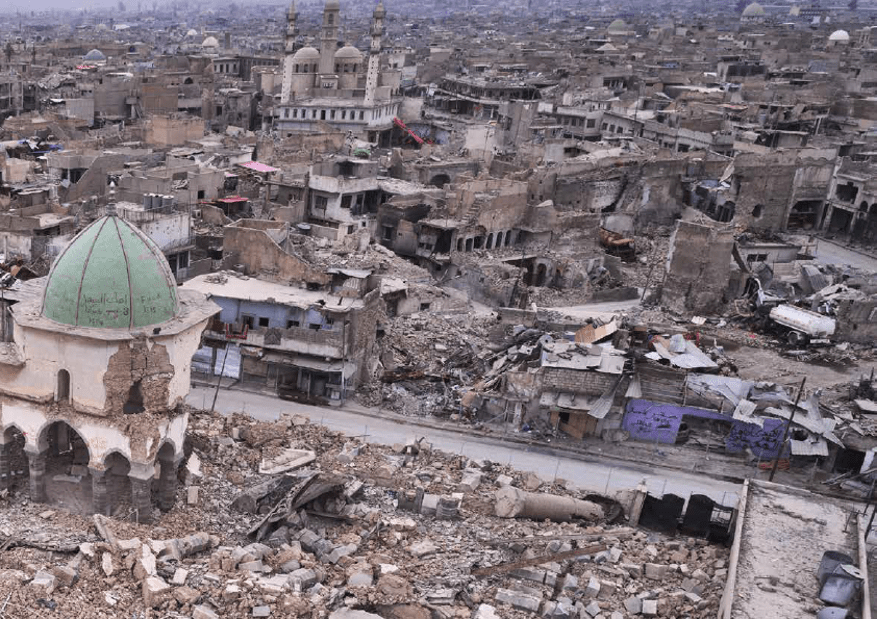 Reconstruction & Rehabilitation of Al Nouri Complex, Mosul (2021)
Procedure :
Open
| 
Category :
Professional
Region II - Central and Eastern Europe and the Middle East | Iraq
UNESCO with the support of the Government of United Arab Emirates, the Prime Minister of Iraq and the UN Secretary-General, organised an international, single stage, open and anonymous architecture competition for the Reconstruction & Rehabilitation of the Al Nouri Complex in Mosul, Iraq.
The UIA endorsed the competition, which is part of UNESCO's initiative called "Revive the Spirit of Mosul", a call for the restoration of one of Iraq's iconic cities.
View the competition launch press release, announcement on jury replacement and the competition results press release.
Keywords :
Culture, Heritage, Mosques
Theme and objectives
The Rehabilitation of Al Nouri Mosque Complex called for a conceptual design for the construction of new buildings with diverse functions; the rehabilitation of all three of its historical buildings and their integration into the new designs; and the landscaping design of the entire site. By creating new spaces dedicated to the community – for education, social and cultural activities – the project envisioned a space to serve community beyond its principal religious function.
The Reconstruction of Al Nouri Prayer Hall called for the concept design for conserving the remaining, standing structure of the prayer hall and its integration into the new building, which is a reconstruction of the prayer hall, as it was in 2017 before its destruction.
Eligibility
Open to all architects entitled to practice in their country of residence.
Jury Members
Howayda Al-Harithy (Saudi Arabia), Professor of architecture & design and Director of the School of Design at the American University of Beirut
Ahmed Yousif Mahmood Alomary (Iraq), Department head, architectural engineering, University of Mosul
Raya Ani (Iraq), Architect, RAW-NYC Architects
Xavier Casanovas (Spain), Professor and expert in sustainable regeneration, Polytechnic University of Catalonia
Amel Chabbi (United Arab Emirates), Head of Conservation, Departement of Culture & Tourism, Abu Dhabi
Shahira Fahmy (Egypt), Architect, Shahira Fahmy Architects
Dominique Perrault (France), Architect, Dominique Perrault Architecture
Wang Shu (China), Architect,  Amateur Architecture Studio, UIA Representative,
Marina Tabassum (Bangladesh), Architect, Marina Tabassum Architects
Jerzy Uścinowicz (Poland), Professor, Bialystok University of Technology, UIA Representative
Doris Wälchli (Switzerland), Founder and Director of Brauen Wälchli Architects.
Results
The first prize was awarded to an Egyptian team led by Salah El Din Samir Hareedy, with Khaled Farid El-Deeb, Sherif Farag Ebrahim, Tarek Ali Mohamed, Noha Mansour Ryan, Hager Abdel Ghani Gad, Mahmoud Saad Gamal and Yousra Muhamed El-Baha.
The second prize was awarded to a team from India led by Avneesh Tiwari (atArchitecture) and Gurjit Singh Matharoo (Matharoo Associates) with Neha Rane (atArchitecture) and Jain Savi Sanjay Vimmi (Matharoo Associates).
A Spanish team led by Francisco Javier Maroto Ramos (ETSAM. UPM) received third prize. Other team members were Pedro García Martínez, Alberto Palomino Bueno, Maribel Sánchez Fernández, Rocío Sánchez Córcoles, Manuel Albaladejo Garre, Francisco Jesús Aparicio Buendía, and Jonathan Andrés Ríos Armijos .
The 4th and 5th prizes were awarded as follows:
4th prize: Wonne Ickx, Carlos Bedoya, Victor Jaime, Abel Perles – PRODUCTORA (USA and Mexico) with Architects: PRODUCTORA + Asli Cicek, Andrea Monroy, Diana Fonseca, Sofia Valdovinos, Ruy Berumen, Ana Reed, Erik Castaneda, Yael Saadia, Diego Velazquez, Pablo Manjarrez, Fidel Fernandez
5th prize: Clement Blanchet Architecture (UAE and France) with Clotilde Berrou & Marc Kauffman, Mattia Malavenda, Hellen Almoustafa Christina Chelarescu, Lola Garcia, Philippe Gimet, Fabrice Merizzi, Simon Parilla, Camille Pepin, Romain Ricciotti, Samir Nicolas Saddi, Shantanu Sang, Philippe Sarfati, Isabelle-Camille Tertrais, Pierre-Mary Thibault, Angelo Trinca, Yves Ubelmann and Patrycja Wyparlo.
The honorary mentions were awarded to:
Riccardo Renzi with Elena Ceccarelli , Gabriele Marinari, Arch. Virginia Vivona, Diego Betti and Dott. Antonio Ciracì (Italy)
Leonidas Papalampropoulos  with Georgia Syriopoulou, Lampros Papalampropoulos, Alexandros Karageorgos, Natalia Sotirchou and Elena Chrissochoedou (Greece).
Key dates
2020-12-31
Registration deadline
2021-03-26
Submission deadline
Prizes
First prize: 50,000 USD
Second prize: 30,000 USD
Third prize: 20,000 USD
Fourth prize: 15,000 USD
Fifth prize: 10,000 USD
Reference documents