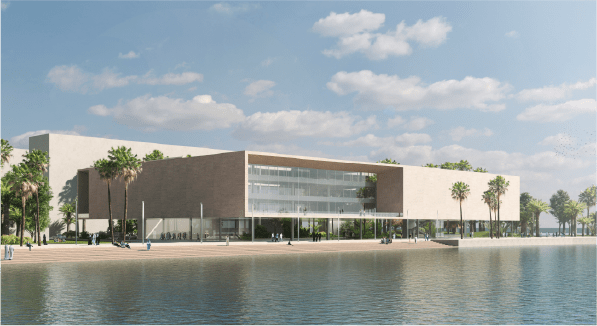 New HQ for the Kuwait Foundation for the Advancement of Sciences
Procedure :
Restricted
| 
Category :
Professional
Region II - Central and Eastern Europe and the Middle East | Kuwait
The UIA endorsed the international, restricted two-phase architecture competition for the design of the new headquarters for the Kuwait Foundation of Sciences (KFAS), a private, non-profit organisation dedicated to progress and to the advancement of the society through science and technology.
The competition was organised by KFAS and managed by the German agency [phase eins]. It was conducted in two phases with 60 teams selected to phase 1 and 10 teams moving on to phase 2.
Key dates
Pre-qualification procedure: March 26 to April 18, 2018
Issue of Stage 1 competition materials: May 7, 2018
Participants' colloquium Stage 1: May 13, 2018
Online forum Stage 1: May 7 to 22, 2018 (extended)
Submission of entries Stage 1: July 4, 2018
Submission of models Stage 1: July 11, 2018
Jury meeting Stage 1: July 31 and August 1, 2018
Issue of Stage 2 competition materials: August 16, 2018
Participants' colloquium Stage 2: September 4, 2018
Online forum Stage 2: August 16 to 30, 2018
Submission of entries Stage 2: November 1, 2018
Submission of models Stage 2: November 8, 2018
Jury meeting Stage 2: December 1 and 2, 2018
Exhibition: Early 2019
Theme and objectives
The new headquarters of the KFAS will include a convention centre, both buildings covering 11 000 square meters each, and a master plan covering 60 hectares. In keeping with the ambitious mission of KFAS, the new headquarters is intended to be forward-looking, innovative and cost-efficient, meeting the highest sustainability standards and should offer a flexible and modern working environment for its staff. The competition aspires to result in exemplary buildings, which can be a model for further developments in the Gulf region.
Eligibility
The pre-selection phase of the competition is open to both experienced and young architects, large and small offices.
Jury Members
Architectural Jurors
Prof. Markus Allmann, Architect at Allmann Sattler Wappner Architects, Stuttgart
Technical University, Munich/Germany
Prof. Nezar AlSayyad, Architect, UC Berkeley, Berkeley/USA and Cairo/Egypt
Prof. Luca Molinari, Architect, Milan/Italy (UIA representative)
 Prof. Hasan-Uddin Khan, Architect, Roger Williams University, Bristol/USA and Karachi/Pakistan
Prof. Mark Mack, Architect, UCLA, Los Angeles/USA and Austria
Alternate Architectural Jurors
Prof. Amale Andraos, Architect at Work Architecture, Columbia University,
New York/USA and Beirut/Lebanon
Dr. Mohammed AlJassar, Architect, Kuwait City/Kuwait
General Jurors
 Mr. Abdlatif Yousef Al-Hamad, Chairman of the Board of Directors and Director General
of the Arab Fund for Economic and Social Development, Kuwait City/Kuwait
Ahmed Abdullah Al-Manfouhi, Engineer, Director General of
Kuwait Municipality, Salmiya/Kuwait
Alternate General Juror
Khaled Al-Mashaan, Engineer, KFAS, Board Member, Kuwait City/Kuwait
Sabah Abi Hanna, Architect, Beirut/Lebanon
Honorary Guests
Dr. Adnan A. Shihab-Eldin, KFAS, Director General, Kuwait City/Kuwait
HE Dr. Yousef H. H. Al-Ebraheem, KFAS Board of Directors, Kuwait City/Kuwait
Technical Experts
Prof. Dr. Wilhelm Bauer, Fraunhofer-Institut, IAO, Stuttgart/Germany
Prof. Dr. Klaus Daniels, HL Beratungs- und Beteiligungs GmbH, Munich/Germany
Maisaa Kayali, Kuwait Municipality, Kuwait City/Kuwait
Stefan Rief, Fraunhofer-Institut, IAO, Stuttgart/Germany
Results
1st prize: Topotek 1 (Switzerland/Germany)
2nd prize: Metaform architects (Luxembourg)
3rd prize: Querkraft architekten zt gmbh (Austria)
4th prize: Nasrine Seraji Architect (France), with Petitdidierprioux Architects (France), VS-A (Hong Kong, China), and Djao-Rakitine LTD (United Kingdom)
Prizes
A total of 530 000 USD was reserved for prizes and honoraria. A budget of 400 000 USD was divided equally among Phase 2 competitors.
In addition to this, the following prizes were awarded:
1st prize: 50 000 USD
2nd prize: 35 000 USD
3rd prize: 25 000 USD
4th prize: 20 000 USD