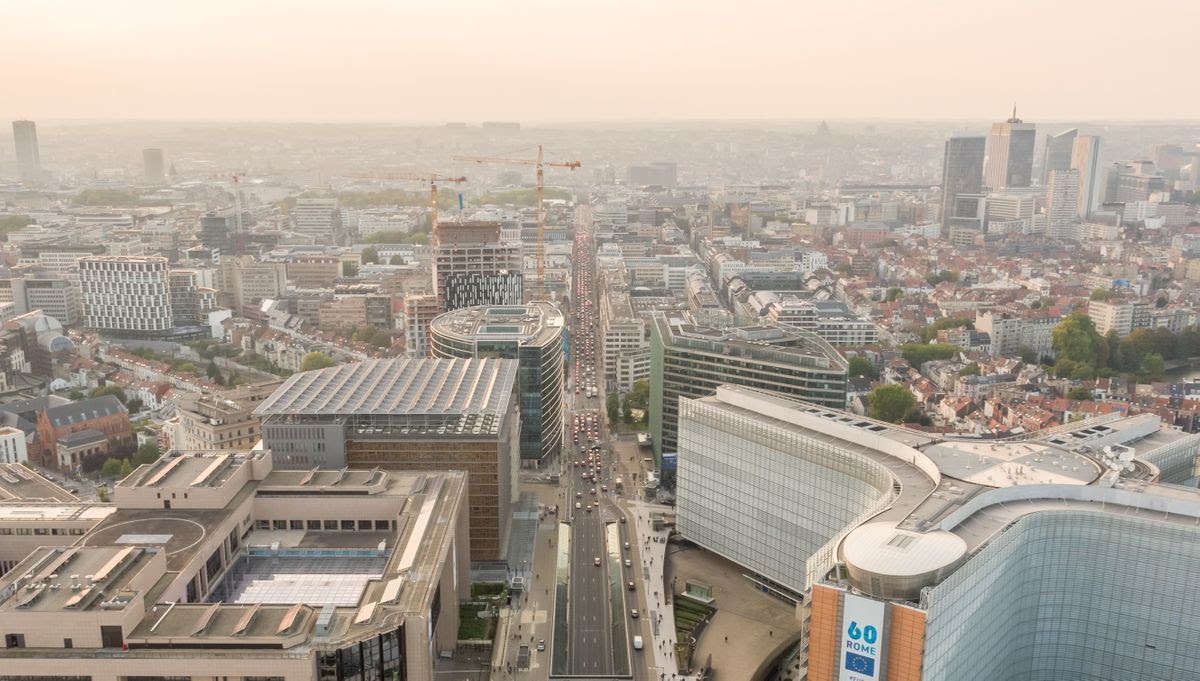 European Commission: Projet Loi 130 (2019)
Procedure :
Restricted
| 
Category :
Professional
Region I - Western Europe | Belgium
The invited international, two-phase project competition was launched in March 2018 to identify the best and most environmentally-friendly solution for a mixed-use office space in the heart of the "European Quarter" in Brussels demarcated by streets Rue de la Loi, Rue de Spa, Rue Joseph II and the Chausée d'Etterbeek.
The competition was conducted in two phases:
Phase 1: Out of 71 applicants, 28 teams were admitted to Phase 1 of the competition and invited to attend a candidates' colloquium and conduct a site visit. The teams were invited to submit an initial outline design concept.
Phase 2: Based on each entry's merit, the jury selected 9 teams to take part in Phase 2. The participants were invited to submit a more detailed design concept for the project.
Competition timeline
Deadline for applications: May 4, 2018
Selection of candidates for phase 1: July 2018
Development of projects for phase 1: August – October 2018
Jury meeting – Phase 1: January 2019
Development of projects for phase 2: February – April 2019
Jury meeting – Phase 2: June 2019
Exhibition: September-October 2019
Keywords :
Institutional, Sustainability
Theme and objectives
The goal of the architectural competition was to redevelop the site into an efficient building complex for the Commission with an approximate gross floor area above ground between 175,000 and 190.000 m². Urban planning regulations allow for two high-rise buildings of respectively 165 and 114 meters high to be constructed on the site. The mixed use complex should provide office space for at least 5,250 employees as well as conference facilities, two childcare centers, the Commission´s visitor center, retail facilities and a car park. In addition, the design should comprise a new entrance to the Maelbeek subway station. The "Project Loi 130" is the biggest and most important real estate project for the Commission in Brussels at the moment and is in line with its real estate policy.
The Commission sought forward-looking, innovative and cost efficient constructions aiming at the highest sustainability targets for a new construction project. The new complex will offer a flexible and modern working environment for Commission staff. A mark of "excellent" under BREEAM label certification system with near zero-energy-status was also required.
Eligibility
The competition is a restricted competition.  Applicants to the pre-selection phase must possess the "legal and regulatory capacity to pursue the professional activity of architect, landscape architect, building services engineer and structural engineer in their country of establishment."  Applicants were asked to provide 5 project references, as well as evidence of professional qualification and/or admission to the profession.
Jury Members
General Jurors:
Guenther H. Oettinger, Member of the European Commission
M. Rudi Vervoort, Minister-President of the Brussels-Capital Region
Irene Souka, Director-General Human Resources and Security, European Commission
Vladimir Sucha, Director-General Joint Research Centre, European Commission
Marc Mouligneau, Director Office for Infrastructure and Logistics Brussels, European Commission
Deputy General Jurors:
Maive Rute, Deputy Director-General Joint Research Center, European Commission
Bernard Magenhann, Deputy Director-General Human Resources and Security, European Commission
Michael Hager, Head of Cabinet G.H. Oettinger, European Commission
Alain Hutchinson, Brussels Commissioner for Europe, Brussels-Capital Region
Marc Séguinot, Head of Real Estate Department of the Office for Infrastructure and Logistics Brussels, European Commission
Architectural Jurors:
Peter Benuska, Master Architect, European Commission, Belgium
Kristiaan Borret, Master Architect, Brussels-Capital Region, Belgium
Brian Cody, Engineer, Ireland /Austria
Dominique Lyon, Architect, France
Monica von Schmalensee, Architect, Sweden
Benedetta Tagliabue, Architect, Italy
Deputy Architectural Jurors:
Olivier Bastin, Belgium
Paul van Bergen, Engineer, The Netherlands
Almut Grüntuch-Ernst, Architect, Germany
Results
RAFAEL DE LA-HOZ ARQUITECTOS, Spain (Team leader); Perkins + Will UK Limited, UK; Latz + Partner Landscape Architecture Urban Planning, Germany; TECNICA Y PROYECTOS S.A., Spain; and, MC2 ESTUDIO DE INGENIERIA S.L.U., Spain.
2Portzamparc, France (Team leader); Florence Mercier Paysagiste, France; and, ARTELIA Bâtiment & Industrie, France.
BURO II & ARCHI+I / B2Ai, Team Leader (Belgium); C.F. Møller Danmark A/S (Denmark), DELVA Landscape Architects (Netherlands) and VK Engineering (Belgium).
View the competition results press release
Prizes
1st Prize:  120 000 Euros
2nd Prize: 100 000 Euros
3rd Prize:  80 000 Euros
Gallery