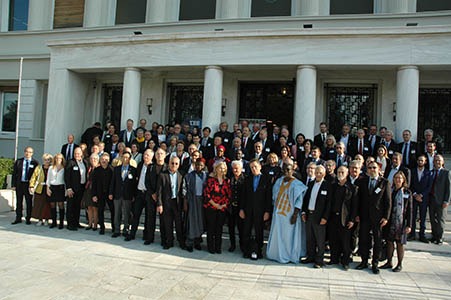 NEW GLOBAL ACCORD ON UN GOALS UNITES ARCHITECTS, CIVIL ENGINEERS AND LAND SURVEYORS
ATHENS, GREECE — At the close of a high-level international conference on climate, society and economy held on 7-10 November 2018, the International Union of Architects (UIA) signed a wide-ranging cooperation agreement with the International Federation of Surveyors (FIG) and the European Council of Civil Engineers (ECCE).
The three international professional bodies will pursue programs that engage their respective professions with the UN-Habitat goals for managing with rapid urbanization and ensuring responsible development practices.
"We hope all members of our industry can join in this work," said Thomas Vonier, president of the Paris-based UIA, which represents the world's 3.2 million architects.
Speaking at the conference in Athens Vonier called upon the building industry to halt destructive development practices and to devote greater resources to meeting global human needs in cities, and especially in slums and informal settlements.
"As many as a billion people on our planet live in places they build for themselves, using materials they scavenge, on land they tenuously claim," Vonier said.  "At the same time, we are degrading and destroying habitat at an alarming pace, with dire consequences we experience every day."
The UIA president called upon the entire building industry to identify innovative projects that improve lives and protect environmental resources.  He urged builders, landscape architects, product manufacturers and other engineering disciplines to join in finding and promoting new solutions.