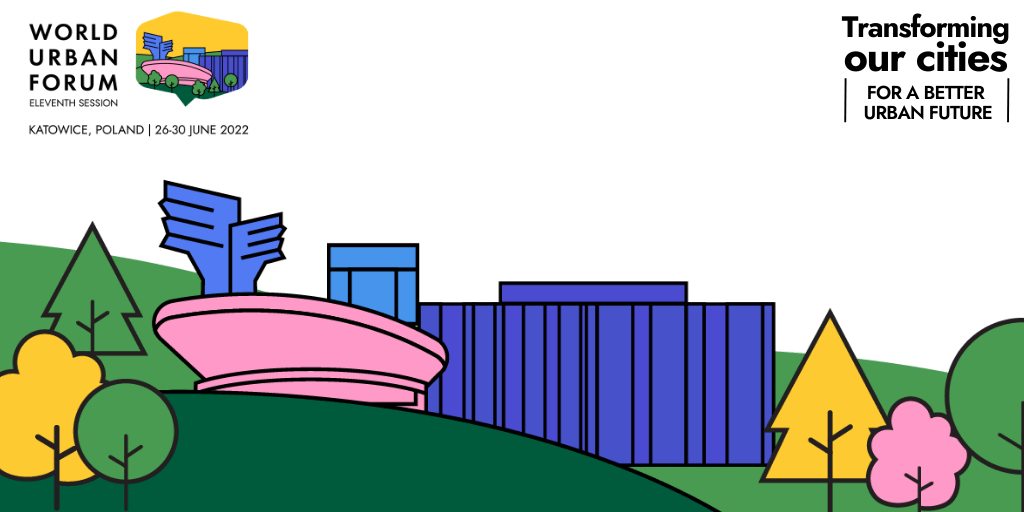 THE UIA AT THE WORLD URBAN FORUM
The World Urban Forum (WUF) is the premier global conference on sustainable urbanisation. WUF11 will be held in Katowice, Poland from 26 to 30 June 2022.
The WUF was established in 2001 by the United Nations to examine one of the most pressing issues facing the world today: rapid urbanisation and its impact on communities, cities, economies, climate change and policies. The first WUF was held in Nairobi, Kenya in 2002 and has been held around the world ever since.
The UIA will be at the WUF11 with the participation of President José Luis Cortés, Secretary General Pei Ing Tan, Region II Vice-President Istelianna Atanassova, Region IV Vice-President Ishtiaque Zahir Titas and Past President Gaetan Siew. Representatives of SARP, the Polish Member Section of the UIA will also be present at the event.
Join us for the following events:
Climate Change and The Role of Cities Redux
Monday 27 June 2022
16:00-17:30 CEST
ICC Multifunction Hall
Room 10
Despite the challenges, cities led by innovative mayors have been leaders in planning for climate change. This networking event invites a cross-section of global thought leaders to present cutting-edge thoughts and case studies on planning for climate change followed by a discussion of the critical role of design in planning for the future. Experts discuss and explore how to meet the challenges of climate change in four interconnected areas: Mobility, Energy, Green Buildings, and the Public Realm. The four presentations will break down silos and share emerging approaches to meet the challenges of the 21st century city.
View flyer here
Density & Design: Steps toward green, affordable, equitable and beautiful housing.
WUF Multifunction Room 9
Tuesday 28 June 2022
9:00-12:00 CEST
The In person Participatory Workshop for creative problem solvers in design, policy and development will feature architects from four continents sharing inspiring and practical local approaches and tools for achieving sufficient affordable and mixed-income housing. How might we work at the scale necessary to accommodate increasing urban populations in alignment with UN Sustainable Development Goals (SDGs)? Speakers will address goal setting, community participation, neighbourhood context, density and development frameworks that engage diverse populations and support shifting ways of life.
View flyer here
From Urban Planning and Governance to the Challenges of Recovering Ukrainian Cities and Territories
Tuesday 28 June 2022
12:30-14:00
Multifunction Hall Room 2
The UIA in partnership with the UN-Habitat and the National Union of Architects of Ukraine (NSAU) invites you to a hybrid discussion on the challenges of rebuilding Ukrainian cities and territories. The aim is to use the Ukrainian example to address the challenges posed to urban sustainable development by catastrophes and to discuss possibilities for rebuilding a better urban future for post-war cities. The Ukrainian context can provide a model for urban recovery, through urban spatial planning, and sustainable land management after a one-step shutdown, destruction and change of development goals.
View flyer here
UIA 2030 Award: Awards Ceremony
28 June 2022
14:00-15:30
The HUB Conference Press Centre PC 7
The UIA in partnership with UN-Habitat and with the support of Arch Daily will recognize the winners of the first UIA 2030 Award. The biennial Award recognises and celebrates the work of architects contributing to delivery of the UN 2030 Agenda for Sustainable Development together with the New Urban Agenda. Organised in six categories and synchronised with the UN-Habitat World Urban Forum, the award invited architects from around the world to submit entries for built projects demonstrating both design quality and alignment with the UN Sustainable Development Goals (SDGs).
View flyer here