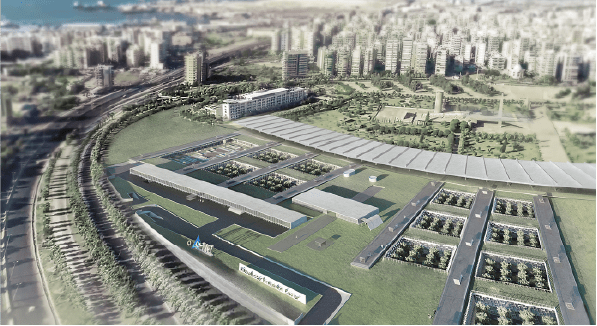 Knowledge and Innovation Center (2019)
Procedure :
Open
| 
Category :
Professional
Region II - Central and Eastern Europe and the Middle East | Lebanon
The International Architectural Design Competition for the Knowledge and Innovation Center in Tripoli, Lebanon was managed by the Lebanese Federation of Engineers and Architects on behalf of the Tripoli Special Economic Zone and the Government of the Republic of Lebanon.
The proposed construction site is located within the Rachid Karami International Fair, designed by renowned Brazilian architect Oscar Niemeyer in the 1960s. The Knowledge and Innovation Centre will be a business and technology park that accommodates and fosters the growth of entrepreneurs, start-ups and SMEs in the city of Tripoli and the surrounding region.
Theme and objectives
The competition's goal is to become an inclusive collaborative platform attracting companies from a wide variety of sectors.
Competition participants were required to provide an urban and architectural concept for the Knowledge and Innovation Center that preserves and integrates the existing modern heritage buildings.
Eligibility
Architecture and Urban Design firms, who are permitted to practice in their respective countries, are eligible to participate in the competition, pending the following two conditions: 
Jury Members
Raya Al Hassan, Minister of Interior, Former Chairperson TSEZ, Lebanon
Jad Tabet, Head, Lebanese Federation of Engineers and Architects, Beirut, Lebanon
Bassam Ziadeh, Head, Order of Engineers and Architect, Tripoli, Lebanon
George Kunihiro, Architect, T-Life Environmental Lab, Past President ARCASIA, Japan (UIA representative)
Antonio Raffaele Riverso, Former UIA Region I Vice President, Italy (UMAR Representative)
Francesco Bandarin, Former Director of World Heritage Centre and Former Assistant Director General for Culture at UNESCO, Italy
Ana Tostoes, Chair, Docomomo International, Portugal
Fares Dahdah, Director of the Humanities Research Center at Rice University, member of Fundação Oscar Niemeyer Board, USA
Suha Ozkan, Former Secretary General of the Aga Khan Award for Architecture, Turkey
Alternate jurors
Amale Andraos, Dean, Columbia Graduate School of Architecture, USA, and advisor to the Chairperson
Gustavo Utrabo, Architect, Aleph Zero, Brazil
Results
The Jury also gave three Honourable Mentions:
Khoury Levit Fong (United States)
UNIT 44 (Lebanon)
Marwan Basmaji Architect (Lebanon)
Key dates
2019-02-18
Competition Launch
2019-03-18
Registration Deadline
2019-04-15
Deadline for Questions
2019-04-18
Deadline for Answers
2019-06-17
Final Submission Deadline
2019-06-28
Announcement of Winners
Reference documents