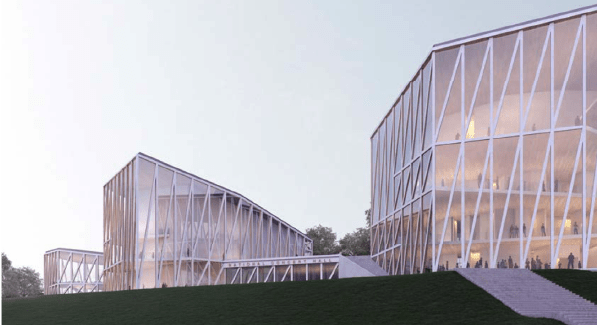 National Concert Hall Architectural Design Competition (2019)
Procedure :
Open
| 
Category :
Professional
Region II - Central and Eastern Europe and the Middle East | Lithuania
The UIA endorsed the international architectural design competition for the National Concert Hall in Vilnius, Lithuania. Architects from all over the world were invited to design one of the most important future spaces in the capital city of Lithuania and to submit their proposals to the Vilnius City Municipality.
Participants were invited to design a building with two concert halls, spaces for lounge bars, a spacious lobby with a view of the city and an area for any other cultural activities.
The architectural competition was organised by the Lithuanian Union of Architects on behalf on the Vilnius City Municipal Administration in cooperation with the Ministry of Culture of the Republic of Lithuania.
Keywords :
Culture, Institutional
Theme and objectives
To find the best architectural and planning solutions for the National Concert Hall and the surrounding area, taking into account the urban and natural conditions of the venue;
To find an exceptional, outstanding, original design in terms of artistic expression and architectural concept;
To ensure functional communications and acoustic solutions satisfying the requirements for an open multifunctional art centre, featuring premium classical music concert hall with natural acoustics, and a residing orchestra;
To find the best solutions for the organisation of transport, pedestrian and cyclist flows for the surrounding area.
Eligibility
Open to all architects entitled to practice in their country of residence.
Jury Members
Ole Gustavsen: architect, Snohetta, Norway (Jury Chair and UIA representative)
Andreas Cukrowicz: architect, Cukrowicz Nachbaur Architekten, Austria
Fabrizio Barozzi: architect, Barozzi/Veiga, Spain
Xander Vermeulen Windsant: architect, XVW, Netherlands
Gintaras Balčytis: architect,  Dviejų grupė, Lithuania
Marija Nemunienė: architect,  ICOMOS Lithuania, Lithuania
Mindaugas Pakalnis: architect,  Vilnius City Municipality City's Development Department, Deputy
Alternates:
Gundula Zach: architect, Zach+ Zünd, Switzerland (UIA  representative)
Gintautas Blažiūnas: architect,  doc. Vilnius Gediminans Technical University, Architecture faculty
Results
First prize: Arquivio Architects (Spain)
Second prize: Fres architects (France)
Third prize: UAB PALEKO ARCHSTUDIJA (Lithuania)
The jury also gave an honourable mention to Smar Architecture Studio, Australia.
View the results press release
Key dates
2019-02-18
Competition launch
2019-06-19
Deadline for Questions and Answers
2021-06-25
Submission deadline
Prizes
First prize: 60 000 Euros
Second prize: 40 000 Euros
Third prize: 20 000 Euros
Reference documents