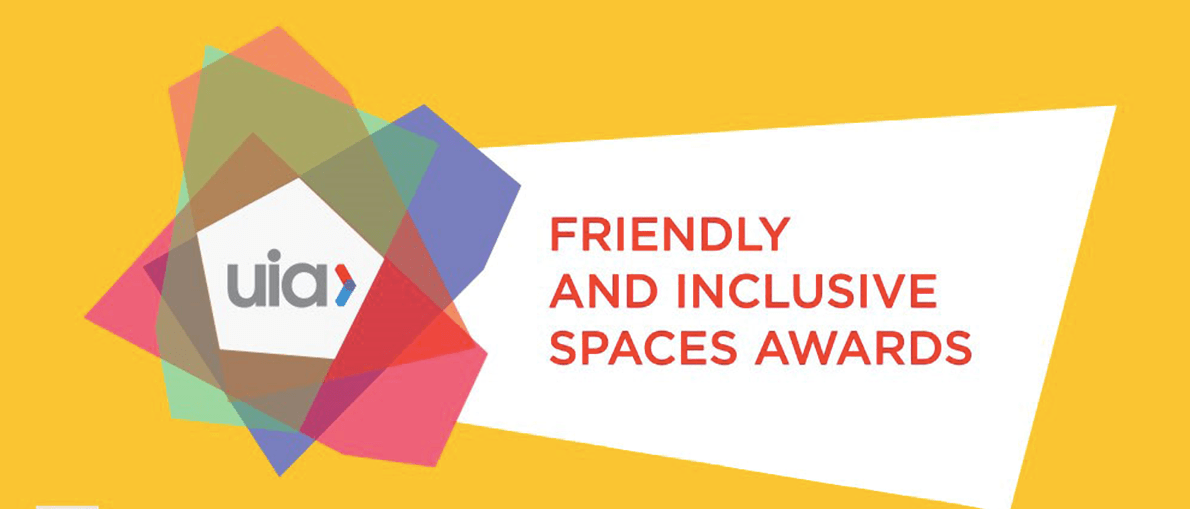 2023 Friendly and Inclusive Spaces Awards
Keywords :
Accessibility, Inclusivity
Theme and objectives
The UIA Friendly and Inclusive Spaces Awards were established to promote inspiring buildings and sites that have created socially sustainable environments through high quality architectural design.
A special award is also given for evidence-based design research that makes a significant contribution to improved quality of life through facilitating a better understanding of human-centred design and its application to the design of the built environment.
Award categories
New buildings
Refurbished existing buildings, including historic buildings
Public and open spaces
Research undertaken by architect(s) on the theory or practice of universal design
This year, 116 entries were submitted by 37 countries in four categories – New Buildings, Public and Open Spaces, Refurbished Existing Buildings (including Historic Buildings) and Research. 56 projects were shortlisted during the regional phase in the first 3 categories.
Two international juries met virtually on 2 and 25 May to evaluate the 56 shortlisted entries and the 18 entries from the 'Research' category. 4 entries were awarded and 11 additional entries were selected for honourable mentions.
Key criteria
Entries in Categories 1, 2 and 3 were evaluated on the overall quality of design and how the project has addressed accessibility and inclusive design. In particular, the Jury considered whether the quality of the architecture:
Takes account of human diversity and needs
Enhances user experience through use of friendly scale, form, colour, material, and light
Facilitates orientation, navigation, wayfinding ease of understanding and cultural safety.
Entries in Category 4 were be evaluated to determine whether the research:
Contributes to improved quality of life through facilitating a better understanding of user centred design and its application to the design of the built environment
Can be applied widely and used effectively by architects and others to enhance design quality and create friendly and inclusive places.
Eligibility
Built works had to be completed by 30th November 2016 and submitted by the lead architect of the project or by the building owner/client with the architect's permission. Attribution had to be correctly presented and agreed in submission when there are number of architects in a team.
Research by an architect or architects which advances the theory and practice of friendly and inclusive design had to be completed by 30th November 2016. Projects that had previously been submitted could be submitted only one additional time.
Jury Members
Regional Nomination Boards (for categories 1-3)
Region I – Western Europe
Kathleen Polders, Belgium – Jury Chair
Kate McGechan, UK
Delfin Jiménez Martin, Spain
Fionnuala Rogerson, Ireland – Alternate juror
Region II – Central and Eastern Europe and the Middle East
Sotiris Papadopoulos – Jury Chair
Krzysztof Ingarden, Previous Winner, Poland
Boleslaw Stelmach, Previous winner, Poland
Region III – The Americas
Kristine France, Chile – Jury Chair
Ron Wickman, Canada
Vanessa Zadel, Peru
Region IV – Asia and Oceania
Glory Wang, Hong Kong – Jury Chair
Norwina Mohd Nawawi, Malaysia
Syed Akeel Bilgrami, Pakistan
Sung Min Kim, South Korea
Belinda Seale, Australia
Region V – Africa
Olanrewaju Olusola, Nigeria – Jury Chair
Safaa Issa, Egypt
Emmanuel Nyirinkindi, Rwanda
Ahmed El Rida, UD consultant, Libya – Alternate juror
International Jury
Built works (Categories 1-3)
Vassilis Sgoutas, UIA Honorary President, Greece – Jury Chair
Kazi Arefin, Previous Award Winner, Bangladesh
Kate Otten, Previous Award Winner, South Africa
Udi Pollak, UD expert, Israel
Angela Rolfe, AfA Regional Director, Ireland
Erico Abordo, AfA, Philippines – Alternate juror
Research (Category 4)
Allen Kong, AFA Co-Director AfA, Australia – Jury Chair
John Zeisel, Independent Expert, USA
Jasmien Herssens, Independent Expert, Belgium
Arina Hayati, AfA, Indonesia – Alternate juror
Results
NEW BUILDINGS
Laureate:
SUP Atelier of THAD: Song Yehao, Sun Jingfen, Chu Yingnan, Xie Dan, Chen Xiaojuan, Yu Haowei (China)
Honourable mentions:
Asociación Semillas para el Desarrollo Sostenible (Peru)
O'Connell Mahon Architects (Ireland)
National Rehabilitation Hospital
Ar. Md. Sharif Uddin Ahammed (Bangladesh)
Shah Muhammad Mohshin Khan Mausoleum
REFURBISHED EXISTING BUILDINGS
Laureate:
Caroe Architecture Ltd (United Kingdom)
St Paul's Cathedral – Equal Access Project
Honourable mentions: 
Sol Architecture et Urbanisme (France)
A Second Life for Jean Macé school, Trappes
10dedosvalentes: Tiago Reis de Oliveira (Portugal)
Therapeutic Equine Center Pony Club Porto: Reconversion and extension of an ancient rural complex, Porto
PUBLIC AND OPEN SPACES
Laureate:
Arsomsilp Community and Environmental Architect (Thailand) with Design Consultant: Turenscape (China)
Honourable mentions: 
AMVC – Arquitectos Associados: Vítor Santos Cruz (Portugal)
Mechanical Accesses to Leiria's Castle
VERITAS Architects (Malaysia)
SUP Atelier of THAD: Song Yehao, Sun Jingfen, Chu Yingnan, Wang Wenwu, Liu Mengjia, He Xinran, Xie Dan, Chen Xiaojuan (China)
Tea Leaf Market of Zhuguanlong
RESEARCH
Laureate:
Magda Mostafa – Progressive Architects (Ireland/Egypt)
The Autism Friendly University Design Guide
Honourable mentions: 
Francesca Tosi, Mattia Pistolesi PhD – University of Florence, DIDA Dept. of Architecture Ergonomics and Design Lab. LED (Italy)
Home Care Design for Parkinson's Disease
Ar. Sebi Nakarmi, Prof. Dr. Sudha Shrestha, Assoc. Prof. Dr. Sanjaya Uprety – Tribhuvan University, Institute of Engineering, Pulchowk Campus, Dept. of Architecture and Urban Planning (Nepal)
Satisfaction with Public Buildings of Patan among People with Disabilities
Andrea Loyola, Patricia Quevedo, Omar Juárez, Johanny Takayama, Jentuam Rodríguez, Gerladine Salazar – Anidare Company (Peru)
Thinking about cities that support care and their interpersonal relationships from childhood
View the jury report 
The winning entries will be exhibited at the UIA Architecture for All Work Programme Exhibition during the 28th UIA World Congress in Copenhagen, Denmark, on 2-6 July 2023. The Prize Ceremony will be held on 6 July.
Key dates
2023-02-13
Deadline for questions
2023-02-21
Deadline for answers
2023-04-14
Deadline for submissions
2023-06-09
Announcement of winners
Prizes
The Jury may award a Medal to the Global Winners in each of the 4 Categories, together with up to 3 Honourable Mentions in each Category.  There are no winners at regional level.
Global Medal Winners will be invited to present their projects in person at a seminar organised by the Architecture for All Work Programme at the UIA Copenhagen World Congress taking place on 2-6 July 2023.
Friendly and Inclusive Spaces Awards medals and certificates will be presented at the UIA Congress.
Registration Fee and contribution for travel and accommodation to the Congress will be provided by the UIA to the Medal Winners of each category.
Reference documents